Focused specifically on education

vAcademia has everything you need for effective classes and lectures: convenient classrooms, interactive whiteboards, text and voice communication, and web camera support.
video
Pioneer of virtual recording

The key advantage of vAcademia over other education-focused virtual environments is the ability to make 3D recordings of classes (virtcasts), which allows creating a new type of content.
video
Teaching tools - "all included"
vAcademia provide a set of teaching and collaborative learning tools: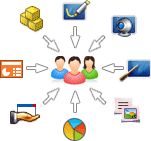 interactive whiteboards,
pointer,
drawing tool,
Power Point presentations,
desktop sharing,
stickers,
3D-objects,
online polls.
video
Activity
My Lecture on cooperation in Virtual Reality. The recording is open for all: http://vacademia.com/record/detailed/5662/
1 month ago
vAcademia basics - a tutorial for everybody on October 1: http://vacademia.com/teaching/showsinglelesson/id/24060
1 month ago
I am trying to use it.
10 month ago
sou brasileira
11 month ago
Hello vAcademia! This is a really fantastic platform for eLearning. There is no other virtual world learning system like it in the world.
11 month ago