Special FAQ for increasing graphics memory of Intel integrated videocards.
Intel® graphics do not have dedicated memory but utilizes some of the computer's system memory. The amount of memory used for graphics may be a fixed amount or may vary up to a maximum amount. It depends on if your computer manufacturer has configured your computer to use a fixed amount, a dynamic amount (varying up to a maximum amount), or a combination of both fixed and dynamic amounts of graphics memory.
In most cases, your computer manufacturer has already configured your computer to use the maximum amount of graphics memory that is possible for your particular computer model. This maximum amount supported by your computer model may be less than the maximum amount supported by the Intel® integrated graphics product itself. Check with your computer manufacturer for the actual maximum graphics memory supported by your computer and whether it is possible to increase the amount of graphics memory of your computer.
The setting may be available in your computer's system BIOS that allows you to increase your graphics memory to the maximum amount. There are some screenshots representing placement of this setting in different BIOS-systems: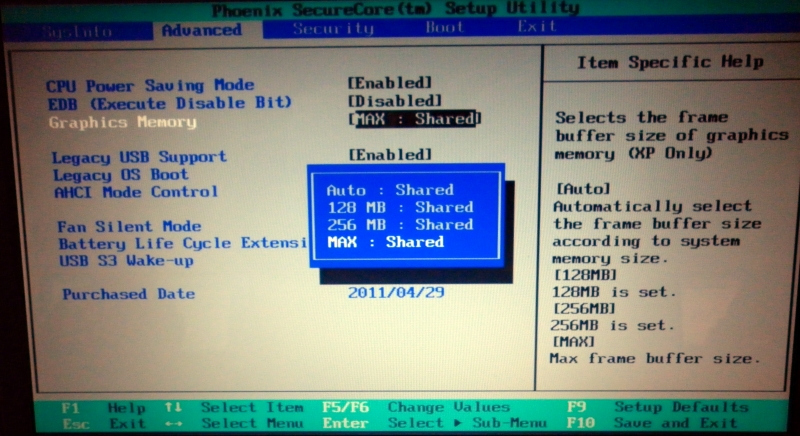 Intel® Dynamic Video Memory Technology (DVMT) is a method for dynamically allocating system memory for use as graphics memory to balance 2D/3D graphics and system performance. If your computer is configured to use DVMT, graphics memory is allocated based on system requirements and application demands (up to the configured maximum amount). When memory is no longer needed by an application, the dynamically allocated portion of memory is returned to the operating system for other uses.
Enable the "Maximum DMVT" (or Dynamic Video Memory Technology) setting in your computer's BIOS, if applicable. Restart your computer, and press the key shown on-screen to enter the BIOS setup. While the "Maximum DMVT" option is not available in every BIOS, enabling the "Maximum DMVT" will increase the maximum memory used in conjunction with your Intel GMA video chipset.
There is
video
a and a picture of increasing video memory size with DMVT.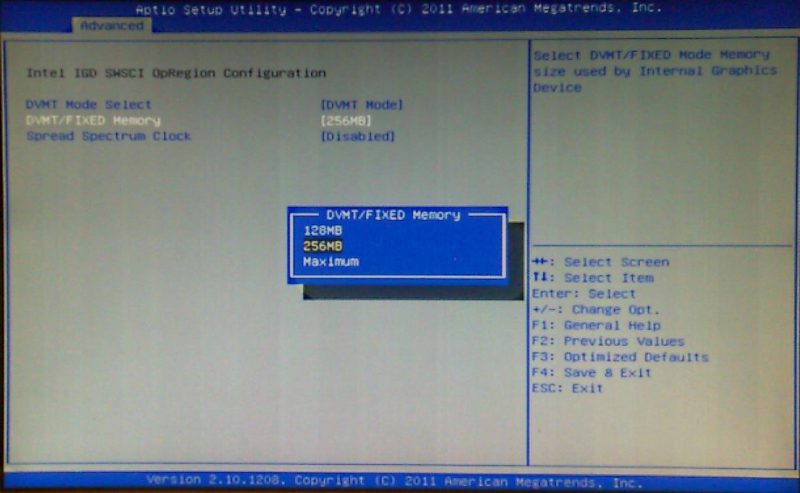 Adding more physical memory may or may not increase your graphics memory. For example, adding more memory would not make a difference if your computer is configured to use a fixed allocation method for the graphics memory. Check with your computer manufacturer on what options are available to increase your computer's graphics memory amount and whether adding more system memory is an option.